Liebherr, Strongest lattice boom crane in Switzerland
Jean Marin - JUNE 21, 2017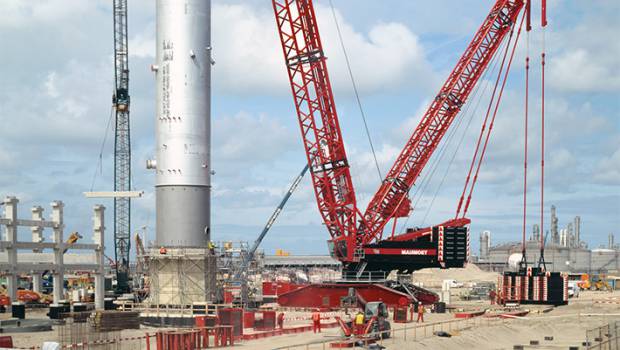 For the first time in Switzerland, the Liebherr LR1100 crawler crane with 1000 tonnes load capacity recognized as the strongest lattice boom crane, has been operating in Sankt Gallen.

A transport and heavy haulage Swiss contractor Emil Egger AG, has recently been supplied from the plant in Ehingen, the first crawler crane with the strongest load capacity of 1000 tonnes in its fleet after a long standing crane fleet which has only included mobile cranes.

The Swiss contractor has booked the LR 1100 for around six months to work on a major new construction project in Zurich. The machine ensures the task of assembling reinforced concrete supports with up to almost 60 tonnes and later façade components weighing 90 tonnes on the construction site.

The new unit features a specific innovation developed by Liebherr, the ballast system VarioTray, with the use of derrick ballast as the counterweight allowing lattice boom cranes to manage vastly higher load capacities. The derrick ballast is available in the form of suspended counterweight tray of a ballast wagon.

According to the family company Emil Egger AG, the LR1100 is primarily designed for infrastructure projects such as bridge building or for large construction assembly, but the crane will possibly be used abroad as well to erect wind turbines.