New Soosan hydraulic drill on display at Intermat Asean
Charlotte Divet - Contributing Editor - JUNE 9, 2017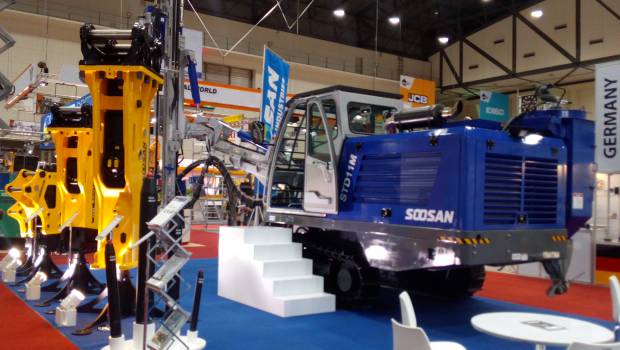 Soosan Heavy Industries, the Korean manufacturer is exhibiting its last model of hammer drill rig at the trade show of Bangkok.

The SDT 11M model is among the Soosan's drilling equipment exhibited at Intermat Asean.

It is a drill rig which has been designed to provide best performance for surface blasting in the quarry and civil work environments.

The machine includes an anti-jamming system, smooth drilling system and damping system on rock drill.

It features besides undercarriage, feed, booms and power unit that are powered by a water cooled Cummins diesel engine.

The SDT 11 M drill rig is also equipped with safe and comfortable ROPS & FOPS cabin which offers wide visibility, simple rod changing system and easy operation systems by means of joysticks.

Many options are proposed with the machine such as a pre-separator (cyclone), CAT walk and CD/MP3 player.

Image credit - Soosan's SDT 11M drill rig