Volvo rotating pipelayers operate in Asia Minor
Helen Whitman - JUNE 19, 2017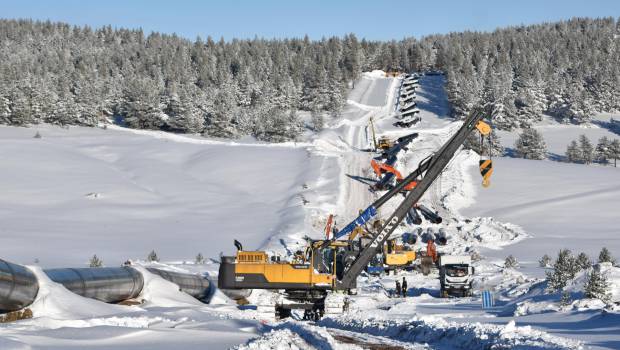 The project to bring Caspian gas from Azerbaijan through Turkey and onwards to Europe has been undertaken by Fernas, the Turkish pipeline contractor.

Fernas has chosen Volvo PL4809D rotating pipelayers to operate on the Trans Anatolian Natural Gas Pipeline (Tanap) in the field of Shah Deniz II in Azerbaijan, the world's longest ongoing pipeline. Tanap will transport gas over a distance of 1,850 km (1,150 mi) to Turtkey's western border with the EU and should supply 16 billion cubic meters of gas per year of which 6 billion cubic meters will be delivered to Turkey.

The project is being constructed in three lots, and Fernas was awarded to construction contract for the Lot 1. The company will use 56 in. diameter pipe and the pipeline will run for 375 km (233 mi). An estimated of 150,000 pipes tubes will be required for this project and the budget worth US$ 10 billion.

According to Fernas, the company is using for the Lot 1, five Volvo PL4809D pipelayers due to its specific technical data. The Volvo's unique 360° upper structure swing capacity allowing the boom to be positioned uphill enabling the load to be kept ahead of the machine, aiding stability and controllability. The units are also specified with a 96 tonne tipping capacity or 102 tonnes with the additional counterweight.

Fernas and its operators will continue to be supported through this huge project by using Volvo Equipment, not only the Volvo's pipelayers were used but also the PL4611 pipelayers with their 110 tonne tipping capacity.